Saturday July 27: Bruce Ito, Arno Chrispeels, Terrence Coleman, Matthew Swartout:
Our usual late June and early July trips were either blown away by the weather or were converted to local Yellowtail and bottom fishing trips.There were Tuna in the area but they were too far away for a comfortable 1 day Seabear trip.
When the fish finally made it within 80nm, we left Point Loma with the wind at our backs for a frighteningly smooth night run. We started the day below the 475 and picked up an occasional bluefin on troll and bait until we found a site dense with marks at 200 ft and sport fishers all in a row. We picked up the majority of our Seabears 20 to 60 lb Bluefin at this site, and Terrence Coleman boated his first bluefin under the watchful eye of coach Bruce. When the bite collapsed in the late morning we slowly headed into the stiffening breeze and ugly chop that had made the run down so nice. We hoped to find that "Dream Paddy" or pick up some more Tuna at the tuna pens on the way home. The Dream Paddy won. Spotted by Arno and Bruce this paddy produced Yellowtail ( 10 to 30 lbs) and a large Bluefin. As the hour got later and the seas and wind continued to ramp up we left this active bite to head for home. The ocean was still too ugly to clean this load of fish and we elected to return Sunday morning to clean fish and refuel. 11 Bluefin, 11 Yellowtail and one Dorado.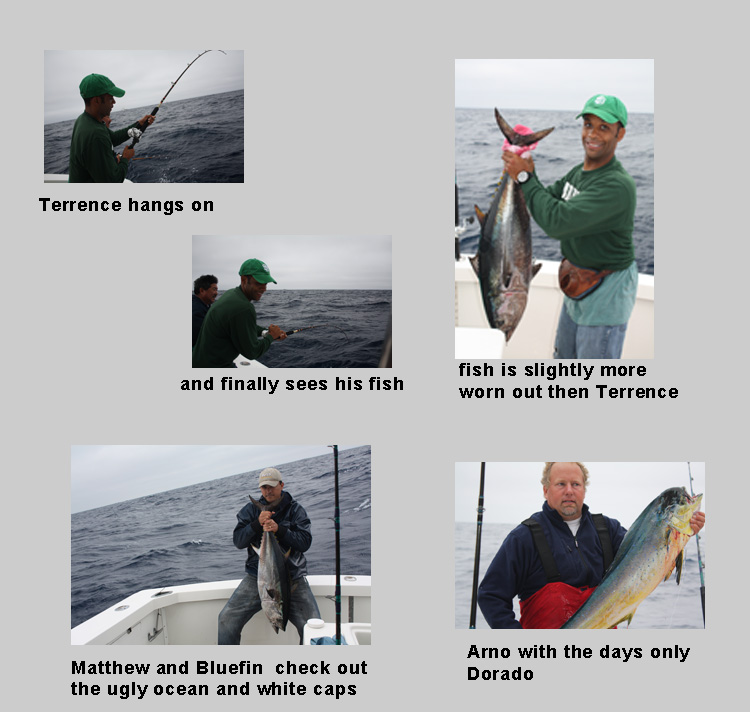 return to 2013 Tuna

Return to Seabear home page