The 1996 fishing season started in July with an excellent Sandbass bite off Imperial Beach. It was a nice way to start after a long 18 month refit in San Diego Bay Trips and Newport Beach. Several Sandbass runs were followed by an excellent Yellowfin bite about 70 to 100 miles south of San Diego. The Dorado shown on the left was picked up near a kelp paddy in this area. Other trips usually found the smaller Yellowfin and a rare Bluefin.
The summer was not without its share of problems. The weather did in one trip which came to be known as the boat ride from hell. A 15 hour run 70 miles down and back in weather that turned out to be too rough to safely fish. Another trip succumbed to a jammed injector on the starboard engine. A run away diesel is not very much fun, but we managed to finally shut it down and came home on a single screw.
All in all it was not a bad shakedown summer for a vessel that had seen very little use for over a decade. 1997 promises a longer and smoother fishing season, and if the current predictions are correct the return of the EL Nino should bring with it excellent fishing.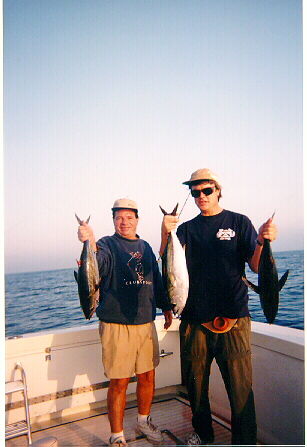 Ed and Bruce with some tasty yellowfin from the 480 spot