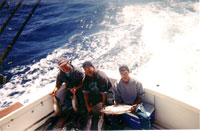 Bruce Ito, Dennis Sata and Robert Nishi with some July Albacore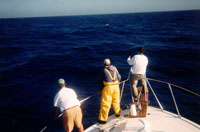 Neal Sullivan works on a large bigeye under the watchful eye of Tom Neuman and son Shane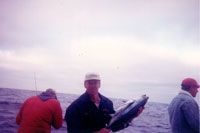 Captain Lannon and one of our early Albacore
We started the year with two April runs to the Islands which offered very good fishing for Yellowtail up to 15 pounds. The best trips were in May when fish were holding in the Middle Grounds and at the trench south west of North Island. The water was warm and there were hopes that the lingering El Nino would produce another record season. It made for a nice start to the season and refilled the freezers for Bruce Ito and others.
In early June we struggled thru two Albacore trips on westerly headings and put only a half a dozen fish in the cooler. .Finally we got fish to come to the boat on a late afternoon bite for Jerry Schneider, Adam Jonas, Bruce Mrosko and Ed Muricio. Albacore fishing was the rule for the next several trips one more to the trench near the 43 fathom spot and the remainder of the trips to the 295 area below Ensenada. This area was productive all season and trips averaged 5 or more Albacore per angler.
In August a school of smaller yellowfin moved into this area and we were catching bigger Albacore mixed with large numbers of 5 to 10 lb yellowfin. We also fought our first big fish of the year when we hooked but failed to boat two larger tuna. Several Bigeye over 100 lbs. were caught in the area.
Two storms churned the water and brought colder water from the north in early September and the late season bite of Yellowfin and Dorado that we enjoyed last year never materialized.
Another outstanding season of thirteen trips. Steady limit fishing for Albacore was the rule all summer. Hopefully the long fins will return next year and the small yellowfin will grow up a bit and bring the Bigeye back with them.

Russell Neuman and his fish are getting bigger