We attempted our first lobster fishing run this year. It turns out it is a bit of a challenge in the bear. Dropping nets from the cockpit came close to the props and we did tangle one pot. Bruce figured out we could run forward on one motor and raise the pot and we managed to get the pot up only loosing several feet of line. We started throwing and retrieving from the bow and it worked much better. We ended up with 2 keepers and several shorts.
Arno with the nights catch
We have often taken grandkids fishing on the bay and this year we made several trips. Steve, Weiwei and the two kids stayed at near the convention center in November for Steves annually meeting. The Seabear was docked at the Marriot marina and Jerry Velasqueze and his two sons joined us for 1 trip. We used ghost shrimp for bait and fished primarily just south of the bridge. It turned out to be a pretty steady bass fishing with the occasional hailibut thrown in.
Yixiang shows off one of the weeks biggest Bass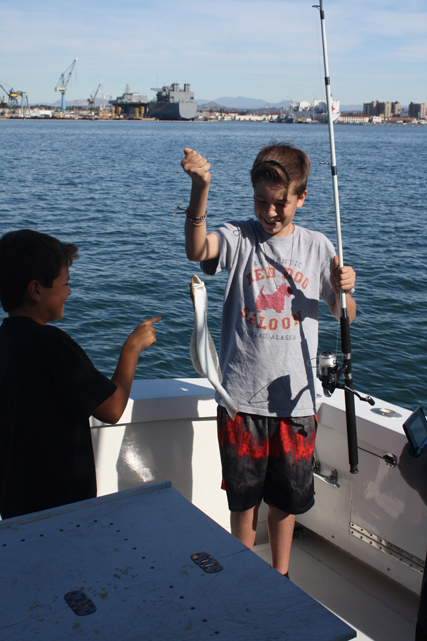 our biggest Halibut
another big bass
This was a bottom painting year and several fishermen showed up for for the 'Buff-N-The Bear ' party. No major repairs this year only a bit of filling and painting.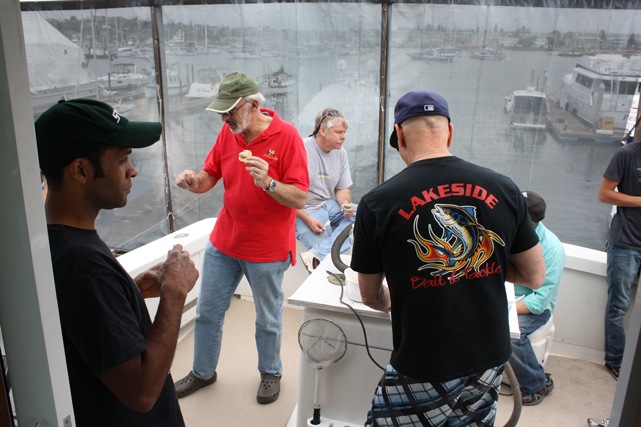 enjoying Mikes Tuna Pate on a break from buffing the bear
enjoying Mikes Tuna Pate on a break from buffing the bear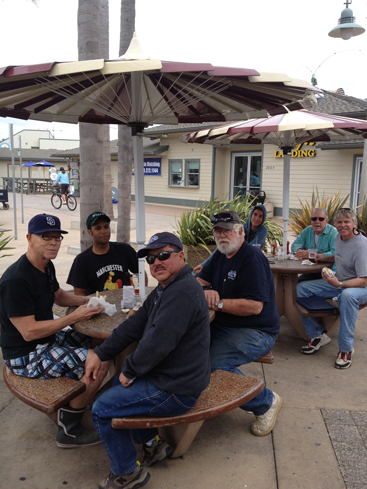 The whole crew at Point Loma Seafood recovering from buffing the bear